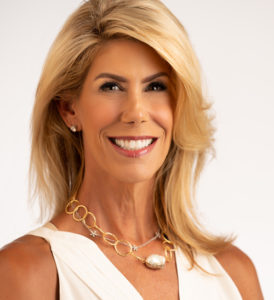 Barbara Guterman is a seasoned entrepreneur, a passionate business executive, and a veteran community organizer with a desire for creating powerful change.  She is a devoted wife and mother to three grown sons who share her passion for business and for giving back. As a consummate entrepreneur for over 33 years, Barbara has launched companies and managed businesses in a multitude of industry segments including telecommunications, retail, franchising, manufacturing, fine jewelry and in internet-based start-ups.  Her experience ranges from small business to large scale public corporations and covers many areas of expertise including, management, operations, sales, investor relations, public relations, community relations and external affairs. Her ability to see the big picture and to do whatever needs to be done to achieve that goal is what sets Barbara apart from others.
At the young age of 23, Barbara saw an untapped market opportunity in the telecommunications industry and co-created one of the nation's first competitive local phone companies.  At the age of 30, Barbara's company was the first in her industry to go public, and was regarded by Wall Street as a  "leading edge" company. Under her teams leadership, the company raised over $80 million dollars and grew to over 5000 employees, providing competitive local and long distance voice and data services to customers nationwide. She was widely recognized for these achievements and was featured in the September 1995 edition of Forbes magazine as a "Woman with a Mission".   Barbara has the distinction of being the first person to don the cover of Readers Digest,  where she was highlighted as a distinguished woman entrepreneur.  In addition, she was recognized as Ernst and Young's 1997 Florida Entrepreneur of the Year, for her efforts in building Intermedia Communications.
Barbara went on to spearhead Florida's NetDay, a grassroots volunteer initiative created by Microsoft founders and designed to bring one internet connection to every school in America. As the Chairperson of NetDay – Florida, she and her team organized a consortium of telephone companies that together raised $9,000,000 and coordinated over 80,000 volunteers to wire every Florida school both public and private with one internet connection. As a result, she was recognized by the Governor of Florida for improving the educational opportunities for all Florida's school children.
Her next ventures included developing a successful women's activewear franchise boutique and subsequent clothing line, and later bringing to market a fine jewelry line showcased in Saks fifth Avenue and other high-end boutiques.
EDUCATION AND PHILANTHROPY
Barbara received her bachelor's degree in Telecommunication from the University of Florida in 1985 and an MBA  from the University of South Florida in 1993, where she was also named USF's Entrepreneur of the Year in 1993. Barbara is passionate about public speaking, mentoring young entrepreneurs towards their own personal success, and in giving back to her community.
Barbara currently is Vice President of KEEN Greater DC, a non-profit organization whose mission is to empower youth with disabilities by providing free, non-competitive, one-to-one programs of exercise, fitness and fun, led by volunteer coaches.  Barbara is also a champion for kids with disabilities and gives back to her community by spearheading an annual Special Needs Prom for KEEN participants in partnership with the Bullis School in Potomac, MD.
HOW BARBARA GIVES BACK: INCLUSION ADVOCACY & COMMUNITY BUILDING
Barbara is a passionate advocate for those who can not advocate for themselves. As a mother who faced developmental challenges with her children, she is driven by ensuring there is Inclusion for all people with disabilities. Barbara is acutely aware of the resources necessary to support this community and works to bring individuals and resources together to buoy those affected. Her work as a leader with Autism Speaks, KEEN Greater DC and Special Olympics is Barbara's way of giving back and "paying it forward". Barbara spearheaded the creation of a special needs Prom at the Bullis School, now a permanent event in that community.
In her role as KEEN Greater DC Vice President, Barbara was recently interviewed by Catherine Read of Read. Think. Act.
Barbara business, marketing, public relations and people skills make her a natural to assist individuals and organizations whether entrepreneurial or non-profit, in accomplishing their missions and their visions.  In the years we have worked together on the KEEN Greater DC Board, she has amazed me in what she has accomplished for our organization and the special needs youth we serve , greatly increasing the sophistication and effectiveness of our annual gala as its chairwoman; in developing an amazing relationship between the Bullis School and KEEN, in taking a leadership role in expanding KEEN's footprint to new communities, and in enhancing the effectiveness of KEEN GDC's public relations and branding initiatives; Most inspiring have been the passion and energy she has brought to her service of KEEN – characteristics that have attracted so many others to join in serving KEEN's mission. 

Burt Braverman
Partner – Davis Wright Tremaine LLP
President, KEEN Greater DC Board of Directors